We have a new 3D-Viewer for your Woocommerce-Shop
Simply present your products now through interactive 3D-Items!
Version: 1.0.4
Canvasio3D Woo | The 3D-Viewer for Woocommerce

Isn't it one-sided if you only show your products as immobile pictures? Or would it be better if your buyers could use the opportunity to view your products interactively from all sides?

Canvasio3D Woo simply extends your Woocommerce Shop with a comfortable "build in" 3D-Viewer, to show interactive 3D-Items of your product instead of the normal product pictures and you can present 3D-Jewelry with high quality Gemstones! By exchanging a standard image function, the handling of Woocommerce does not change and everything else remains as you are used to it!

Easy handling implemented in the Woocommerce menu

Canvasio3D Woo has been designed to be as easy and quick to use as possible without sacrificing comfort. For example, do you have shoes or T-shirts that only differ in colors? Then just upload a model and set the color variation of the individual products in the Canvasio3D Editor. This speeds up the loading times on your product page, because only one model needs to be loaded for all variations!

3D-Models in the format: .glb / .gltf with and without animation and .obj & .mtl (Wavefront)

Canvasio3D Woo supports the very precise 3D format .glb and .gltf, which has everything a good 3D application can display in a browser. Of course Canvasio3D Woo also uses animation data if they are contained in the model and plays them in a "Ping-Pong loop" with a push of an button! Also you can uses Models with the file format: .obj & .mtl but this did not support animations.

Would you like to know more?
The documentation of Canvasio3D Woo can you find here
Visit the
Demo-Shop

at: Variabelle.com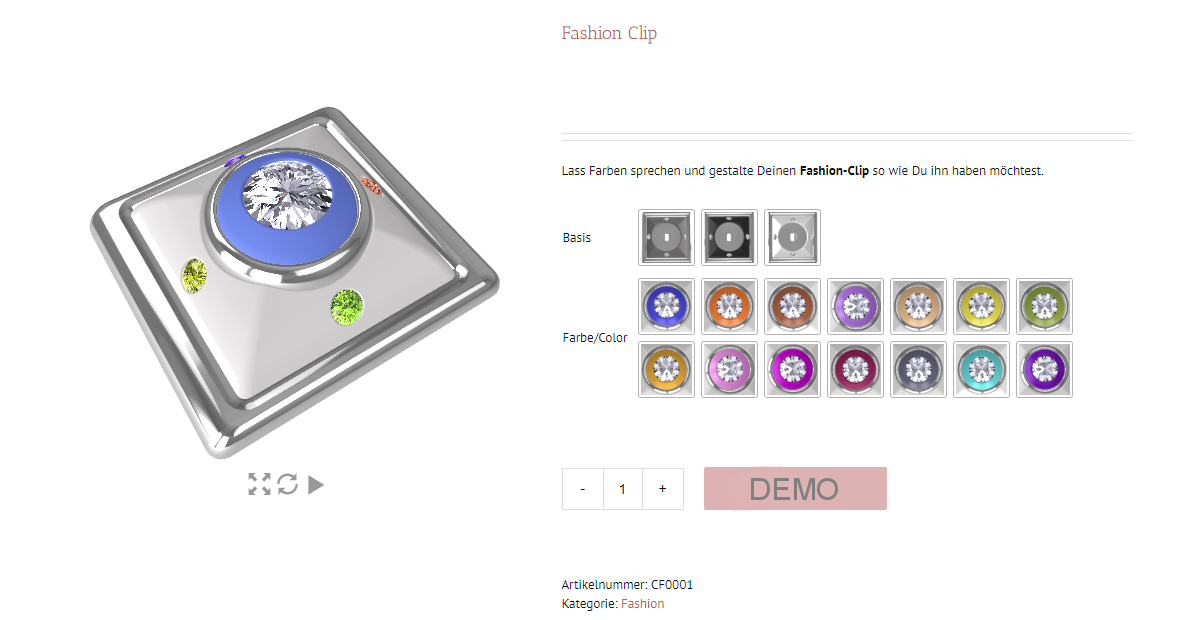 14 days money back guarantee, if you are not satisfied with Canvasio3D Woo
Extends your Woocommerce Shop:

3D-Product viewer plugin for Woocommerce
Shows interactive 3D-Items of your product
Smooth Item Rotation up to 360 degrees
Material individualization
Full screen Item view
3D-Jewelry with high quality Gemstones
Support File format: glb | gltf | obj & mtl
Support glb | gltf file format animation
File upload on your own web space
Support single and variations Products
In time unlimited regular License

Since March 2012 have we expanded our 3D-plugin software for WordPress, constantly improved and supplemented with additional functions. Now it's time that we do it for Woocommerce too.

Our updates will continue to be free for all Buyers.